1.1 Job interview (0)
Today our topic is "Job interview". What does it mean?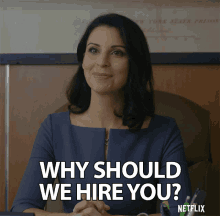 A job interview - is an interview consisting of a conversation between a job applicant and a representative of an employer which is conducted to assess whether the applicant should be hired. Interviews are one of the most popularly used devices for employee selection. A job interview typically precedes the hiring decision.
USEFUL VOCABULARY
earn one's leaving - заробляти на життя
employee – службовець, робітник [im'plɔi:]
employer - роботодавець, наймач [im'plɔiə]
flexitime - вільний режим робочого дня
full-time job - робота на повну ставку
get a raise - отримати підвищення
job / work - робота
occupation - рід занять, професія [ˌɔkju'peiʃn]
part-time job - робота на неповну ставку
pay cut / wage cut - зниження заробітної плати
promotion - просування по службі [prəmōSHən]
regular job - постійна робота [ 'regjulə]
run a firm - керувати фірмою
salary / wages - заробітна плата
trade - заняття, ремесло, професія
work in shifts - працювати позмінно
work overtime - працювати понаднормово
working hours - робочий час
application - заява [ˌaplikāSHən]
application form - бланк заяви
apply for a job - подати документи для прийому на роботу
apprentice / trainee - учень, стажист, практикант [ə'prentis]
CV (curriculum vitae) - коротка біографія [kəˌrikjuləm'vi: tai],резюме
job interview - співбесіда при прийомі на роботу
-What is job interview for you? What should you wear for your job interview, dear students, by the way?
Watch the video «8 Useful Tips for Your Successful Job Interview».
Watch and listen to it attentively, then you will do some tasks to test your listening skills.
Do an exercise to check your understanding!